In the words of Veronika Lytvynenko: "By taking care of ourselves, we can do more for people and the country."
Date: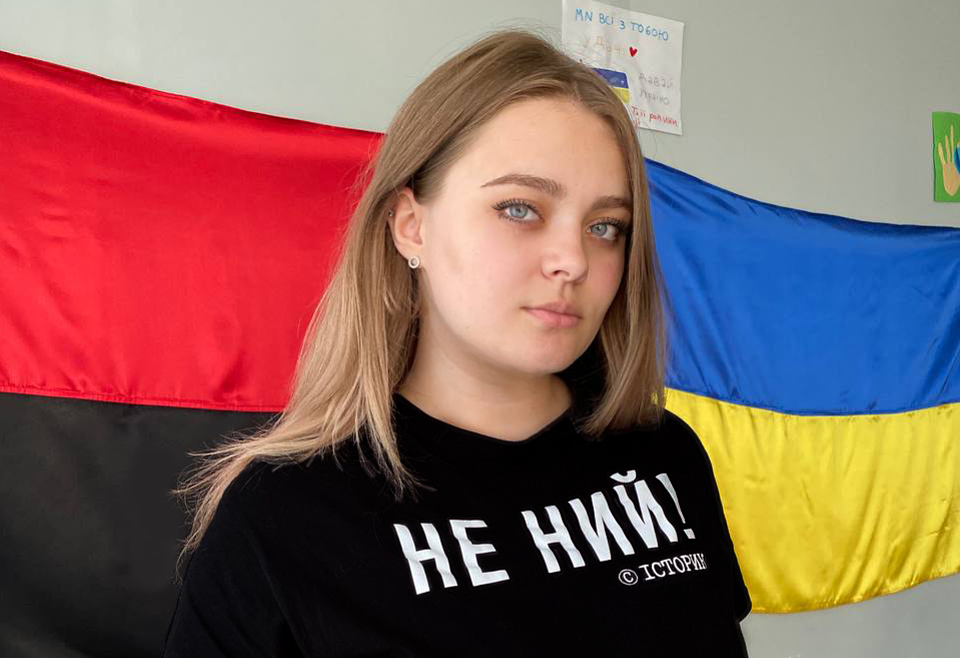 Veronika Lytvynenko is a volunteer and graphic designer for the Ukrainian Women Veteran Movement. Russia's full-scale invasion of Ukraine found her in Kyiv, and her entire family in Mariupol. She began volunteering for the organization at the end of February 2022, on the third day of the invasion. Her mother and grandmother are now refugees in Denmark, but Lytvynenko remains in Ukraine and says volunteering gave her the resources and strength to fight, live and be useful to her country.
Back in 2014, when I was 17 years old, I heard the first shots and saw my native city of Mariupol captured by invaders. I was still a schoolgirl. I saw it with my own eyes, but at the time, I did not fully understand everything because of my age. I felt а disgust for the invaders even then. The events of 2014 inspired me to apply to study in the history faculty. I moved from Mariupol in 2015. But only then did I fully feel how bad it can be to live under 'Russian peace'.
On 24 February, the world was divided into black and white for me. I lived in Kyiv and lost my job. Meanwhile, my whole family – my parents, my younger brother, my aunt, and her husband, all the closest people to me – stayed in Mariupol. While my whole family was under bombing, without communication, I didn't know if I would ever see them again, and I was slowly losing my mind.
The only thing that saved me from despair was volunteering. The thoughts swarmed in my head: 'I will help here; someone will help there.' And so, on the third day after the full-scale invasion, I joined the Ukrainian Women's Veteran Movement.
In general, during those months, while my family was in an occupied city, I not only survived but also initiated a huge process of growth for myself – establishing the direction in which I wanted to move and what I wanted to do next. We all set priorities for ourselves: what do we want to achieve in life if suddenly this is the last day? First of all, it made me realize that I wanted to be a designer after all. And my staying among different but strong women, communicating with them, and joining various activities revealed to me what else I could do to be useful.
I was also positively influenced by the psychological support group organized by the Ukrainian Women's Veteran Movement, with the support of UN Women in Ukraine. I did not expect a quick, clear result. But, unexpectedly for myself, after online and offline sessions, I noticed that little things didn't annoy me as they did before. I also started having dreams. I started drawing again.
Unfortunately, we cannot be everywhere at the same time: covering our friends on the front line, packing humanitarian aid, earning money to donate, and arranging first aid training. But by taking care of ourselves, we can definitely do more for people, for ourselves, and for the country."
---
Together with UN Women Ukraine, the Ukrainian Women Veteran Movement implements the "From the Strong to the Strong" project, where women veterans help civilians overcome anxiety and fear, learn necessary survival skills in conditions of active combat, and support psychological health. The activity is implemented within the UN Women project "Transformative Approaches to Achieving Gender Equality in Ukraine" with support from the Office of the Deputy Prime Minister for European and Euro-Atlantic Integration of Ukraine and funded by the Government of Sweden.