In the words of Valentyna Dobrydina: "I promised myself that I would defend the rights of people with disabilities"
Date: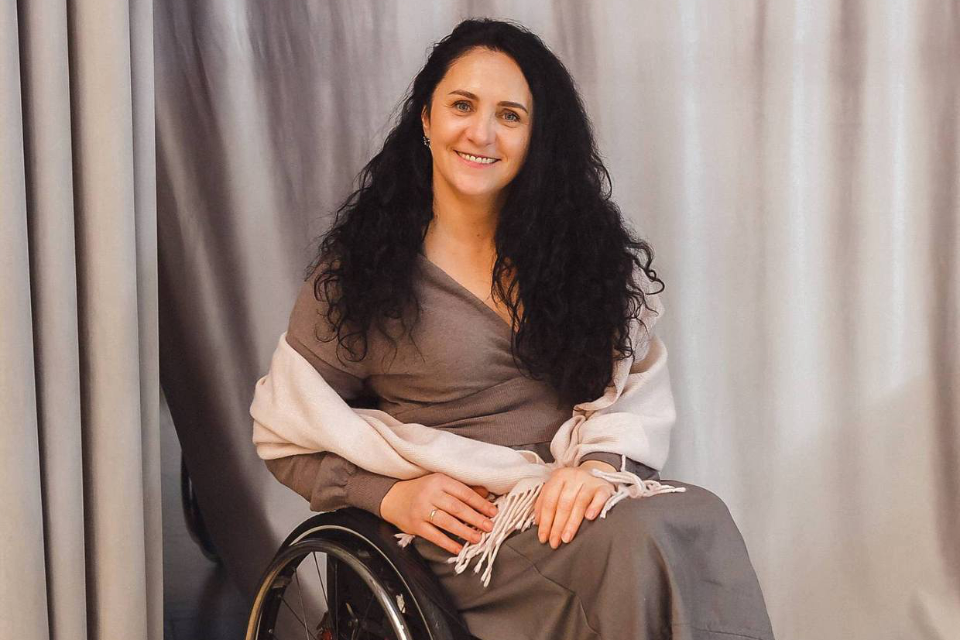 Valentyna Dobrydina is a representative of the Government Commissioner for the Rights of Persons with Disabilities in the Chernivtsi Regional State Administration, in western Ukraine. She also heads the non-profit public organization, "Leader: the Chernivtsi Regional Organization of People with Disabilities."
My story of social activism began more than 20 years ago, when I was injured and found myself in a wheelchair. I realized that I didn't even know people in wheelchairs and didn't see them on the street or in shops, except for those who were begging under the church. While in the hospital, I promised myself that I would defend the rights of people with disabilities, make them visible to society, and fight for their rights.
Twenty years ago, there were very few organizations for people with disabilities. Most of the activities were entertainment, concerts or sporting events. Then I met other young people with disabilities from Chernivtsi region, and we decided to create our own public organization. At the beginning it was not easy: there were ideas, but there was almost no support. My first team was my family.
There are many stereotypes in our society that women with disabilities can neither give birth nor create a family. To fight against these stereotypes, we organized special events and talked about human rights. Some people even had to be persuaded that they were a full part of society. We had to work with internal barriers, restoring people's confidence.
City accessibility is about the sense of dignity for people with disabilities. At meetings with government officials, I was often told: "Why did you come? We would go to you ourselves; we'd go down the steps, we would come ourselves!" I try to change their point of view, so I emphasize that I am an independent person and I want to drive myself along a convenient ramp to the administration and any other building.
The public organization I head, "Leader", is a member of the National Assembly of People with Disabilities of Ukraine (NALI), which collaborates with the UN Women project "Advancing Gender Equality and Women's Empowerment through Decentralization Reform of Ukraine". As part of our collaboration, we learned to conduct gender accessibility audits and mobilized women with disabilities to advocate for their rights. We held workshops with public representatives and authorities.
It is quite difficult to make old or existing buildings accessible. To really change something, you need the determination and will of the management of these institutions. We continue to carry out inspections of buildings, educational institutions, hospitals and administrative buildings. I am glad that in our region they often agree with us and make the necessary renovations.
As a result of the COVID-19 pandemic, the isolation of people with disabilities has worsened. If earlier we could see friends and relatives, go to the city and travel, now this has become more difficult. Of course, we have transferred all our activities online, but the effect of personal communication is completely different.
If a person in a wheelchair, who spends most of their time sitting, gets sick with COVID-19, it will put a huge strain on their already weak lungs. Many of my acquaintances are tightening isolation and almost never leave home for a second year in a row. Also, many people with disabilities are afraid to go to the hospital because not all wards are properly equipped. People in wheelchairs often need separate rooms and specially trained staff, including toilets that simply do not exist. Last year, realizing this need, we held a seminar on the topic "How to provide support and assistance to women with disabilities in health care".
Due to the small number of universal multifunctional gynecological chairs and mammography machines, women with disabilities cannot undergo a high-quality examination by a gynecologist. Improper diagnosis leads to diseases such as cervical cancer, breast cancer and other diseases that lead to complications and are life-threatening. In addition, the lack of toilets available for women with musculoskeletal disabilities in health facilities discourages visits. It is gratifying that recently adapted medical and diagnostic equipment has appeared in medical institutions. Thus, in the Chernivtsi region last year, five reception departments were reconstructed or built in hospitals, which are modern and accessible to all citizens.
I should note that when vaccinations began, various polyclinics and the Health Department of the Chernivtsi Regional State Administration repeatedly contacted me and offered various options for how to gather people with disabilities for vaccination. There are sufficient vaccines for people with disabilities in our region; the only problem is that not everyone is ready to be vaccinated. We try to spread as much positive information about vaccination as possible, but prejudice in our society is still very strong.
I am glad that there are many women leaders in the Chernivtsi region who work side-by-side and inspire me. These are Maria Nikitina, Olena Bebeshko, Lyubov Sviridenko. All of them are heads of public organizations, councillors; some of them have been or have run for city council deputies and are women with disabilities. Of course, session halls are not yet available to us, because they are located on the second floor, but this is another challenge in our work towards accessibility and inclusiveness."
---
The article was prepared within the framework of the UN Women Project "Advancing Gender Equality and Women's Empowerment through Decentralization Reform of Ukraine" funded by Global Affairs of Canada.