The United Nations Ukraine hosted a Thematic Dialogue with Ukrainian Women's Civil Society Organizations in Kyiv
Date: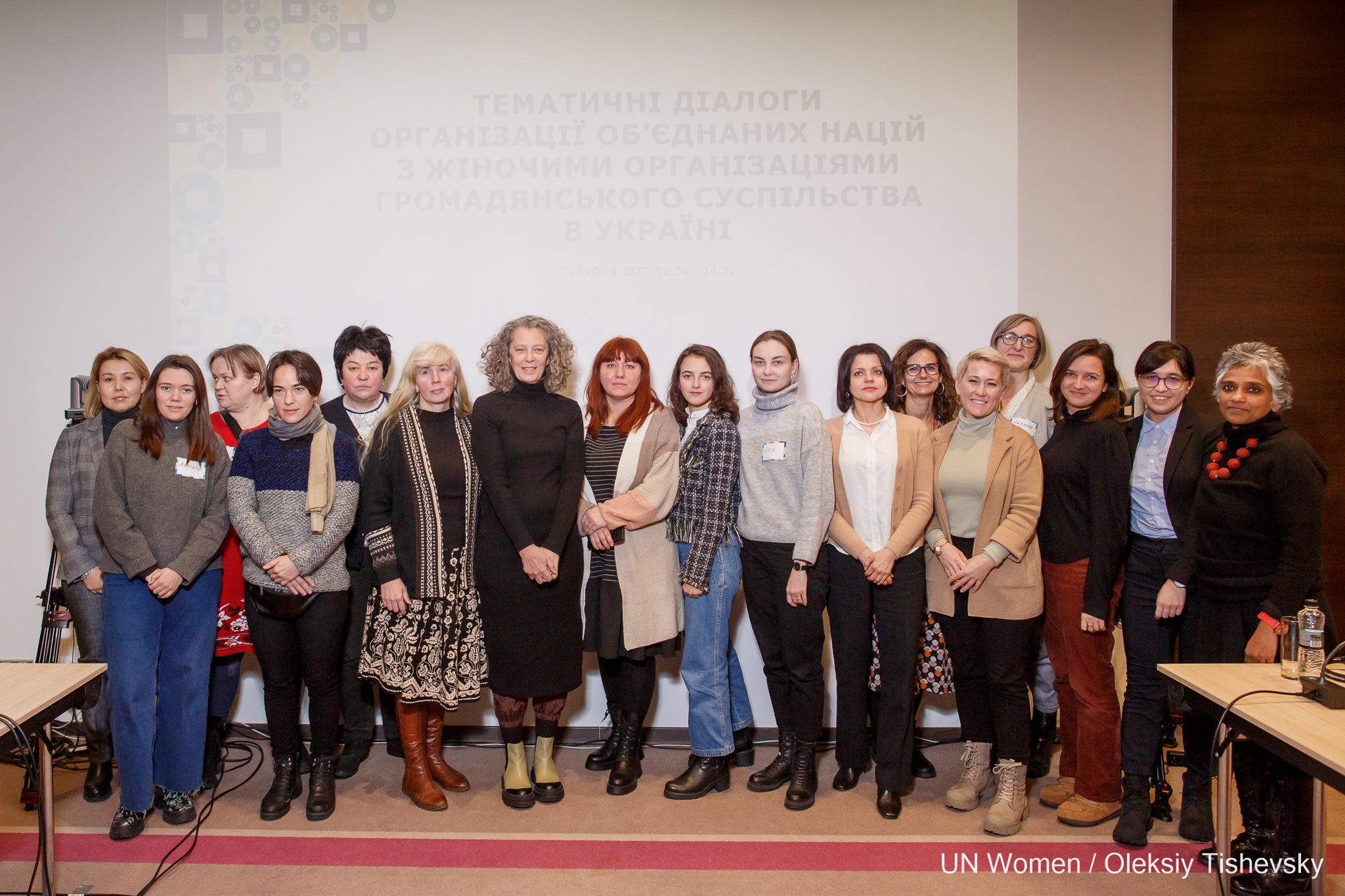 December 9, 2022, Кyiv, Ukraine - Denise Brown, the United Nations Resident & Humanitarian Coordinator in Ukraine, Geeta Kuttiparambil, UN Women Ukraine Representative, a.i., and Tetyana Kudina, Programme Coordinator, UN Women Ukraine, co-hosted the United Nations Thematic Dialogue with Ukrainian Women's Civil Society Organizations. The event was held in Kyiv on December 7th.
This event which gathered 27 Women CSOs representatives was the first in a series of dialogues designed to provide an inclusive platform for Ukrainian women's CSOs to highlight emerging and timely priorities across human rights, humanitarian assistance and recovery efforts, and enable direct engagement of women's CSOs with the diplomatic, development and humanitarian community.
Opening the event, Denise Brown, the United Nations Resident & Humanitarian Coordinator in Ukraine, addressed the participants and outlined the goal of the meeting: "We are here to listen to you and to work with you to bring the concerns and priorities of women affected by the war to the forefront of our response."
During the meeting participants discussed measures which will help to safeguard and strengthen the leadership and achievements of the Ukrainian women's movement during the war; the current risks, limitations and potential challenges women CSOs anticipate in meaningfully advancing their work; and how United Nations can better support women activists and CSOs to continue the momentum of their efforts and amplify advocacy.
Larysa Baida, the National Assembly of People with Disabilities: "We need to sit at the same table with UN structures working in Ukraine and discuss issues and barriers, so they can help us help people".
Iryna Drobovych, Ukrainian Women's Congress: "Coming together as CSO representatives gives us energy to move on and engage. This unity of women's organizations is important nowadays. It's time to unite"
The dynamic discussion confirmed that women leadership and joint efforts of all stakeholders amid the full-scale Russian invasion in Ukraine are much needed to navigate through these challenging times, mitigate the negative impact of the war on women and girls and streamline the humanitarian response and recovery efforts.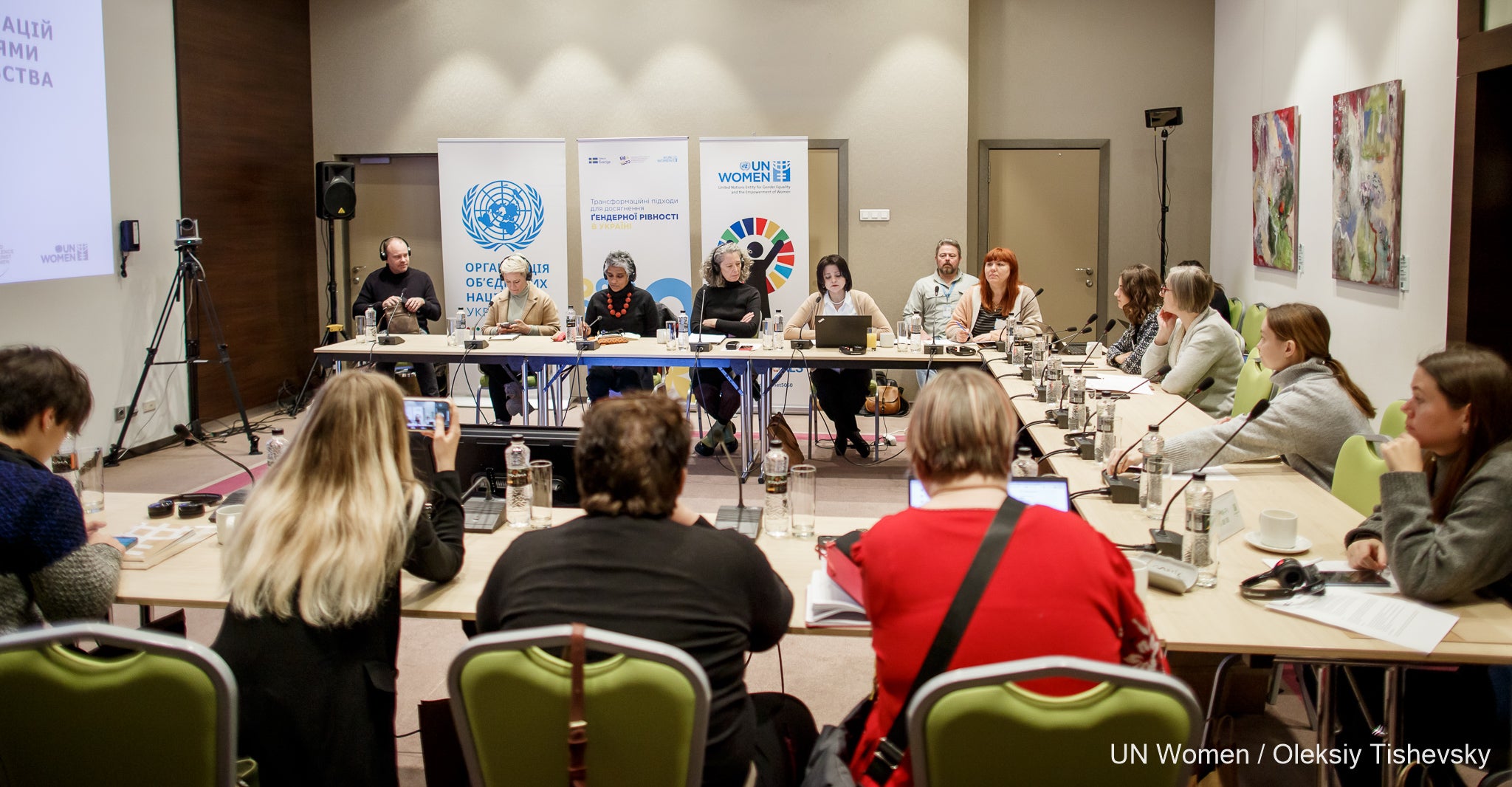 Issues raised by participants also included political representation of women, as well as greater support to women affected by war to develop businesses to support their family in a context where there is a growing number of single-female headed households, with fewer and fewer income-earning opportunities, all on top of an already unequal labour market. Access to services related to gender-based violence, as well as support to women with disabilities were also identified as key priorities.
Wrapping up the 1st Thematic Dialogue with Ukrainian Women's Civil Society Organizations, Åsa Regnér, Deputy Executive Director for Policy, Programme, Civil Society and Intergovernmental Support, UN Women said: "This is a priority for us. We want to put women's leadership and needs at the forefront of the agenda of the UN's response".
The participants of the meeting agreed to establish a joint working group with the participation of UN agencies in Ukraine and CSOs to align on the next steps necessary to identify key directions for strengthening UN and Ukrainian Women's Civil Society Organizations joint efforts.